THE BOLLOX
Man City have added TWO elements that will help them win the big games
Last season Manchester City won just one out of eight games against top five teams - Kevi De Bruyne pinpoints what has changed
Manchester City have found what it takes to beat the big teams in the Premier League … Kyle Walker and Benjamin Mendy.
The Blues struggled against teams in the top five last season, winning just one of their eight clashes with the teams who were vying for Champions League places – and that was against flaky Arsenal.
So to hammer bogey team Liverpool 5-0 so early in the season was a signal of and intent to do better in the big games.
And when man of the match Kevin De Bruyne was asked what had made the difference, he was quick to pinpoint the influence of the new full backs, whose £94million transfer caused such a fuss over the summer.
"The guys who came in have a very physical quality, they are very strong, very pacy," said the Belgian midfielder.
Kyle Walker has added a new dimension to City this season
"They make the pitch big, that is a quality of them and it was difficult for the other teams.
"To go around Mendy and Kyle you need to have a lot of trickery and pace and even then they can come back. That is the difference with last year.
"It is minimal. Obviously the guys who have come in are very good additions and I think they really suit the style we play so obviously we will need to be there for 38 games but we've had a good start."
And De Bruyne feels that could make all the difference to the Blues' title push.
"It is nice to win a big game - last year we didn't win a lot of them," said the Belgian midfielder, who set up the first two goals for Sergio Aguero and Gabriel Jesus in an imperious display.
"The only thing we didn't do last year was win the big games. I thought we deserved to win a few more games than we did, especially at home, like the ones against Tottenham and Chelsea.
"It makes a difference – that's five or six points extra and they are losing those points so then you are closer together.
"But this is just the beginning. It is also different because they took a red card, but even then it is good to score five goals."
De Bruyne also hinted that there was a more determined edge to the City dressing room this season.
"Everyone wants to win especially when you have a couple of years when you don't win a lot," he said.
"Maybe there's more of an urgency to win something between the players and I have a good feeling about this season but you never know. We have started well but we will see what happens." MuEN
Raheem Sterling still in Arsenal's sights despite Pep Guardiola blocking swap deal involving Alexis Sanchez
Arsenal will return with another bid for Manchester City winger Raheem Sterling
The England international is understood to be open to a return to London
City will return for Alexis Sanchez in January and will offer £20million for Chilean
Arsenal remain interested in signing Raheem Sterling from Manchester City.
Pep Guardiola vetoed a proposed swap involving Sterling and Alexis Sanchez on transfer deadline day with City preferring to offer straight cash.
The City manager is adamant Sterling has a role to play at the Etihad and says the England international is fully committed to his project but it is understood the 22-year-old is open to a return to London and the chance to play more regularly at Arsenal.
City will return for Sanchez in January and will offer around £20million for the Chilean. Arsenal retain interest in signing Sterling and Monaco's Thomas Lemar (Mail)
Manchester City manager Pep Guardiola pleased with Sergio Aguero and Gabriel Jesus' growing partnership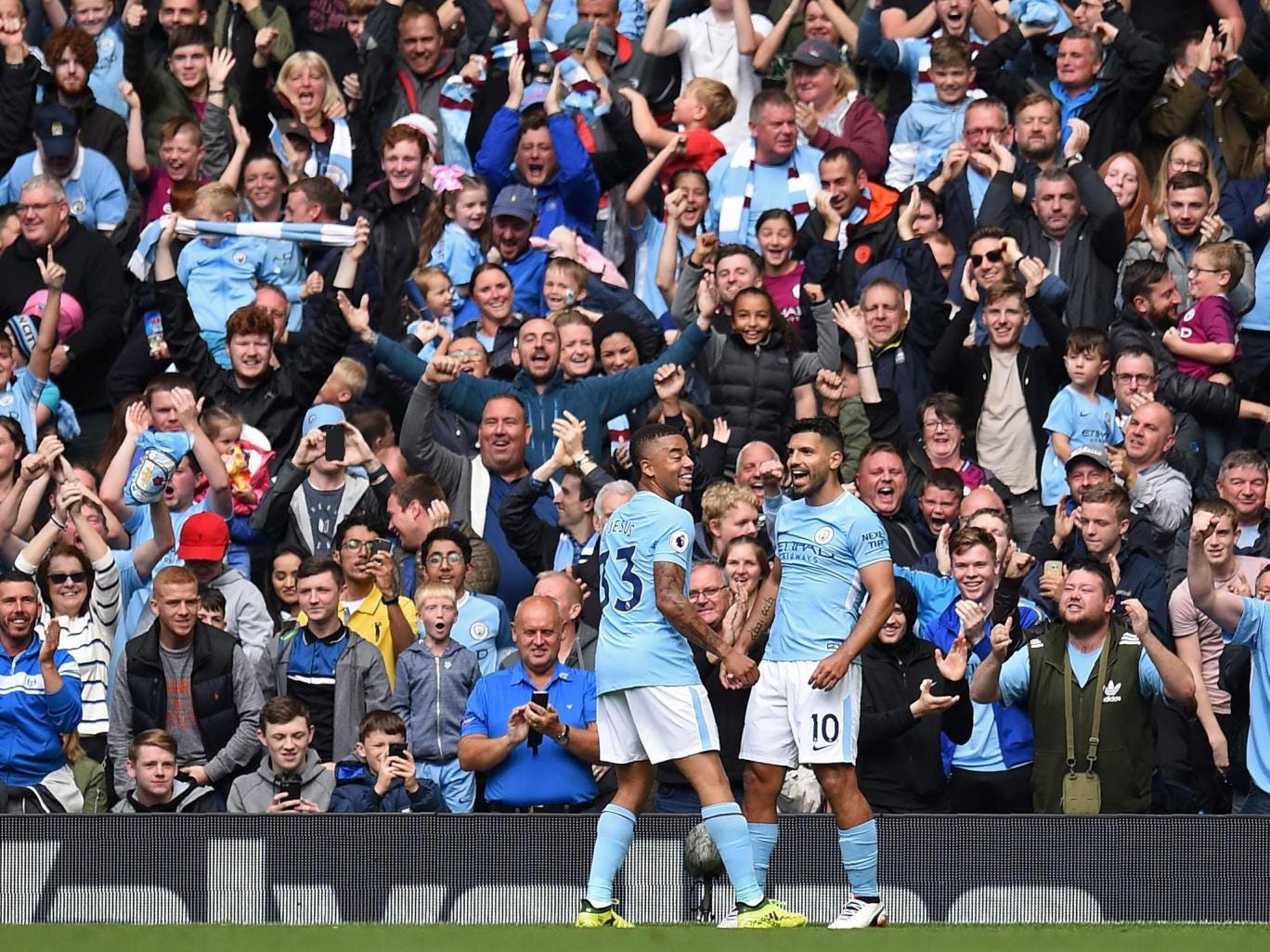 The Manchester City manager believes that the pair proved in Saturday's 5-0 win over Liverpool that they can play alongside one another
As if the evisceration of Jurgen Klopp's Liverpool was not proof enough, for Pep Guardiola, one moment in Manchester City's 5-0 victory on Saturday showed once and for all that Sergio Aguero and Gabriel Jesus can play together.
With the hosts two-up and the pair having scored one each, Aguero was slid through one-on-one with Simon Mignolet by a superb Fernandinho pass. The Etihad expected the greatest non-European goalscorer in Premier League history to convert. Instead, he sought to pass.
"I don't say to the striker pass the ball, I say score a goal please," Guardiola insisted after the game, but in this instance he was delighted by Aguero's selflessness. The Argentine laid the ball off to Jesus, his some-time rival for a starting spot, allowing the Brazilian to dink it home.
Aguero was arguably in a better position, with Jesus' angle much narrower, and Guardiola may not have been so pleased by the move had the pair contrived to miss the chance.
Yet after months of suggestions that Aguero is not fond of playing second fiddle and claims that the two cannot operate together effectively, Guardiola was especially pleased with them combining to score.
"It means a lot to me, what Sergio did. A lot," he said. "They are both good guys. Both are exceptional players, their relationship is top. Of course both want to score goals and we need that, that egoism, wanting to score more than your team-mate, but they have the ability to choose the right decision like Sergio did.
"He was one-against-one with the goalkeeper but had the ability to pass the ball. When this happens the next time, Gabriel is going to do it for Sergio, and that's good."
For Guardiola, it was the highlight of a day where almost everything went right for City. It was only dampened by the injury to Ederson, caught by Sadio Mané in a challenge that saw the Liverpool winger sent off, though the goalkeeper is not expected to be sidelined as a result.
The ruthlessness of City's play once facing 10 men particularly pleased Guardiola.
"Maybe the fact that Sergio and Gabriel are playing together means we have more chances because they are central to the goal.
"Football is boxes, every manager has ideas, a way they play. It doesn't matter how, everything is well done, but of course the boxes make the difference.
"1-0, 10 against 11, we score four goals. We didn't concede one chance from them and we were calm in attack in the right moments. We were quick in the last part and in others, a little slower. That's what I'm looking for."
SNUB BOLLOX
Benjamin Mendy rejected Chelsea to play under Pep Guardiola
Benjamin Mendy rejected Chelsea as he wanted to play for Pep Guardiola at Manchester City, says Monaco vice-president Vadim Vasilyev.
The left-back was tracked by the Premier League duo after helping Monaco to the Ligue 1 title and an exhilariting run to the Champions League semi-finals.
Vasilyev claims Mendy was desperate to work with the former Barcelona coach, and would not have left Monaco for Chelsea, meaning the club relented as the France international became the most expensive defender of all time.
"For a while, we held off," Vasilyev told L'Equipe. "And then, we thought – in spite of the offers that we had had for him and him indicating that he wanted to leave – could he have another season like the last one?
Sanchez 'went from happiness to bitterness' as Man City move collapsed
"At first, I said, 'no, you're staying.' He replied: 'But Vadim, I really want to go to City and link up with Guardiola.'
"On numerous occasions he said to me: 'If it was Chelsea, I'd stay; but if it's a chance to work with Guardiola, I want to go.'
"He'd spoken so frankly with me. So, when City met the asking price and when he became the most expensive defender in the world, there were no more arguments to have with him. We weighed up the for and against and said to him: 'OK, you can go.'"
STAT OF THE WEEKEND BOLLOX
Danilo was the only player in the Premier League this weekend to complete 100+ passes.
115 attempted - 108 completed - 93.9% accuracy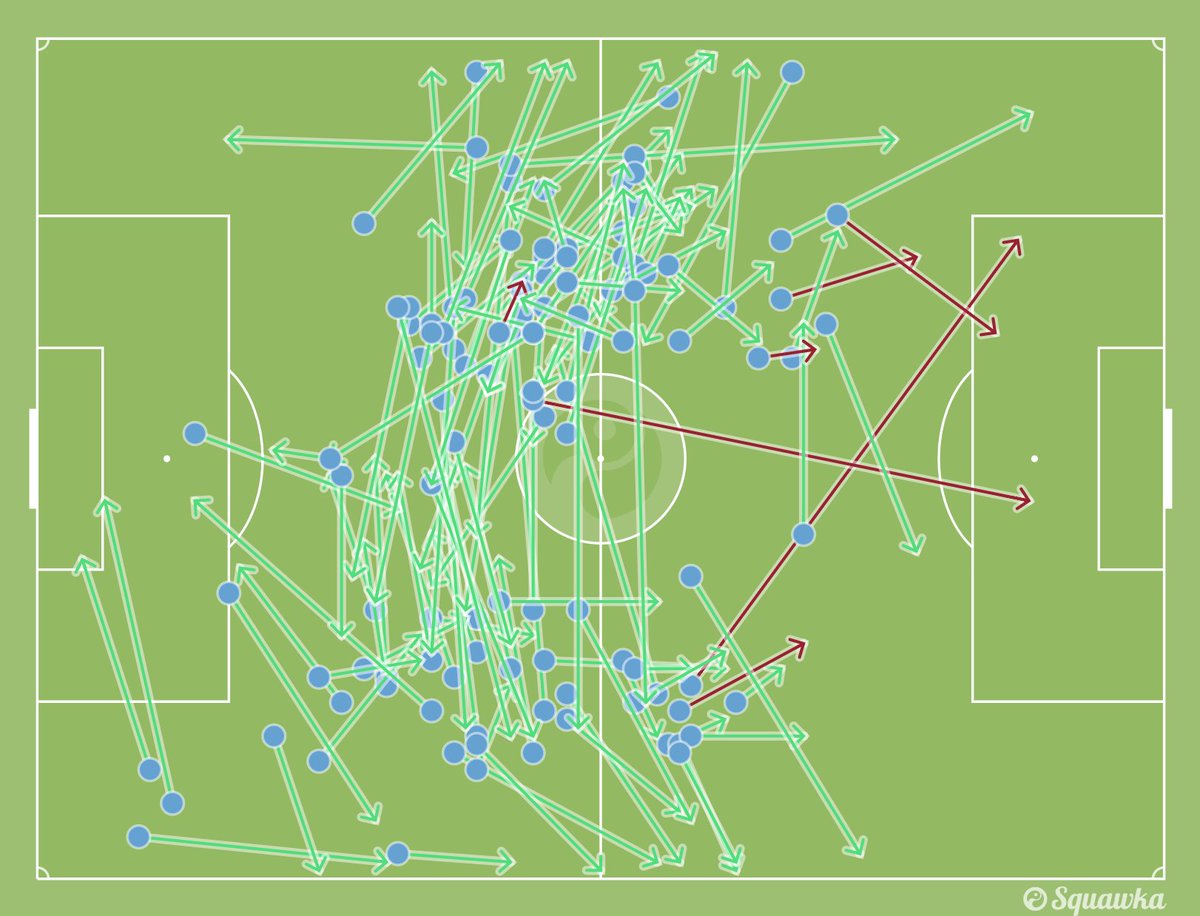 WAG OF THE DAY
OTHER BOLLOX
Former England manager Roy Hodgson is favourite to replace Frank de Boer if the Dutchman is sacked as manager at Crystal Palace. (Daily Mirror)
Manchester United are keeping their number seven shirt free for 26-year-old striker Antoine Griezmann, whom they believe they can eventually sign from Atletico Madrid for £100m. (Daily Star)
Chelsea striker Diego Costa has relocated his family to Madrid as the 28-year-old expects a deal to be finalised which will allow him to rejoin Atletico. (Football 365)
Chelsea are prepared to battle Barcelona to secure the signature of highly rated Bayer Leverkusen midfielder Atakan Akkaynak, 18. (Daily Express)
West Ham have earmarked highly rated Napoli coach Maurizio Sarri as the man they want to replace manager Slaven Bilic. (Daily Express)
Arsenal manager Arsene Wenger believes Neymar's decision to leave Barcelona for Paris St-Germain was based on money not ambition. The Gunners' boss says the decision shows the 25-year-old does not want to play with the best team-mates. (BeIn Sports - via Goal.com)
Arsenal's transfer market dealings could change as the man who leads the pursuit of players - Dick Law - is set to leave the role, but Arsene Wenger has denied chief executive Ivan Gazidis will take over Law's responsibilities. (Evening Standard)
Wenger has revealed it was the "values" at Arsenal that persuaded him to turn down Manchester United when they asked him to replace Sir Alex Ferguson as manager at Old Trafford. (Independent)
Manchester United chief executive Ed Woodward will use the club's commercial prowess to lure Real Madrid's Gareth Bale, 28, and Atletico Madrid's Antoine Griezmann, 26, to the club next summer. (Manchester Evening News)
Bayern Munich legend Stefan Effenberg believes the German champions should think about selling Robert Lewandowski after the striker "attacked the philosophy" of the club in the media. (t-online.de - via Goal.com)
Former Barcelona coach Luis Enrique was planning a year's sabbatical but he could be back in a job as early as January with Chinese club Shanghai Shenhua having contacted him over the possibility of replacing Gustavo Poyet. (TMW - via Marca)
Carlo Ancelotti could leave Bayern Munich as soon as January, according to the club's former player Mario Basler, who says the Italian has signed a deal to move to a Chinese club. (Sport1 - via Daily Mail)
Brighton boss Chris Hughton says the club need to sign another striker. (Daily Mail)
Tottenham midfielder Eric Dier has revealed he will be following the Philadelphia Eagles in the new NFL season. Alongside an image of his personalised shirt he tweeted: "All about the Eagles for the new #NFL season!"
Manchester United boss Jose Mourinho "feels sorry" for Arsenal fans and has "no idea" how Arsene Wenger is still manager at the club, according to TV host Piers Morgan. (Daily Mail)
Liverpool striker Danny Ings was substituted in an under-23 fixture on Sunday prompting fears the 25-year-old may face another spell out with injury. (Sky Sports)
Former Liverpool midfielder Jamie Redknapp says Renato Sanches' confidence looks "shattered" after the midfielder's Swansea debut against Newcastle at the Liberty Stadium. (Sky Sports)
Former Brazil and Barcelona striker Romario has shared a video of his beach football skills. (Instagram)
GOLDEN BOLLX




On this Day - 2012




City and David Silva Close to Agreeing Bumper Contract


Manchester City and David Silva close to agreeing new £190,000 per week five year contract
Manchester City are reportedly close to tying Spanish playmaker David Silva to a new five year deal. The 26 year old former Valencia winger signed for the English champions in 2010, for £24m and a four year contract and has established himself as one the club's and league's best attacking players.
His performances and form saw interest from Spanish champions Real Madrid, who were ready to offer City £30m for the Spain international. In fact, interest from Madrid has been long-standing, if tentative, with the nine time European champions having contacted Valencia back only months before Silva signed for Roberto Mancini's side.
However, Silva rubbished talk of his leaving the Etihad and was quoted as acknowledging and appreciating the interest from Madrid (and Barcelona) but committing himself to City.
"City believed in me and I'm very well here. Real Madrid and Barcelona are definitely two great clubs but I hope to stay in Manchester for many years," the 26 year old playmaker said back then.
In response, City were reported as scrambling to offer Silva a new deal. An earlier IBTimes UK report suggested club chiefs were readying a £200,000 per week five year deal (worth £52m in total) to the diminutive attacker, which would place him in the same wage bracket as Ivorian international Yaya Toure and Argentineans Carlos Tevez and Sergio Agüero.
Goal.com now reports negotiations between the club and the player's representatives have almost successfully concluded, with a £190,000 per week offer understood to be on the table. Silva's present contract expires in 2014 and the offered deal will extend it to 2017, which should effectively kill any hope of Madrid signing the player.
Manchester City are presently fourth in the Premier League, with seven points from three games. Mancini's side will resume the fight to defend the league title on 15 September, when they travel to play Stoke City. Then comes the big game... City's Champions League opener against, ironically, Real Madrid. The game will be on 18 September, at the Santiago Bernabeu, where Madrid chiefs will certainly be keeping a close eye on Silva's performance should the contract not be signed by then.



The 'inner chimp' did it: Barton explains Manchester City red card


The Marseille midfielder's last-day red card for elbowing Carlos Tevez and scuffling with two other players earned him a 12-match ban but he insists that he wasn't himself
Marseille midfielder Joey Barton has blamed his violent actions on the final day of 2011-12 Premier League campaign on his "inner chimp".
Barton, who has been loaned to the French side from parent club QPR for the season, was shown a straight red card for elbowing Carlos Tevez before violently squaring up to Sergio Aguero and Vincent Kompany as the Rs lost 3-2 to Manchester City.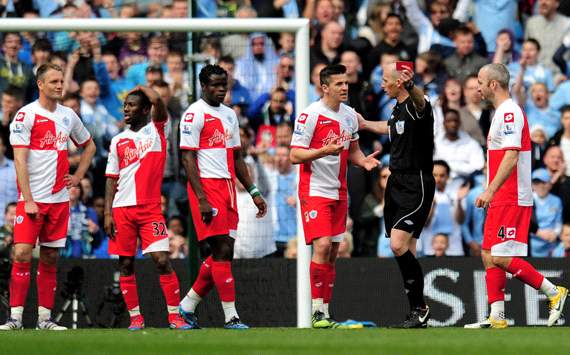 But the 30-year-old, who still has nine games of his 12-match suspension to serve as a result of his actions in the dramatic season climax, insists that he was not in control of himself at the time.
"I completely let myself down but it's not a rational situation," he told GQ Style of the incident.
"I knew we could be relegated, they could win the league and I'm captain. There's a bit of a media spotlight on me so if we go down, I'm going to take a lot of s***.
"I was already getting it on Twitter so pressure started building and I didn't handle it well. My inner chimp doesn't work well with injustice, it reacts too quickly.
"Tevez has done what he's done, I have reacted and the aftermath is ... I look at it now and it's almost like it's not me. I'm like: 'What the f*** were you thinking?'
"At the time in some weird way I thought it was the correct way but, looking at it now, I know it wasn't. I've got to learn a lesson from that. The thing it reiterated to me was just how far I am from the person I want to be."
Barton added that, during a spell in prison in 2008 after a conviction for assault and affray, he had spent time in anger-management classes as well as addiction support groups.
"I was on a journey and I have a really inquisitive mind so I wanted to learn more. I used to go to AA meetings just because I was interested in what people were saying," he told the magazine.
"I even went to NA meetings and I've never touched a drug in my life. Anything that gets you out of your cell is a bonus."



6ft 5ins Manchester City goalie Angus Gunn, 16, has a big, big future - now he's found a suit that fits


When young City goalkeeper Angus Gunn decided to kit himself out with a suit to look good off the pitch he hit a stumbling block – his height.
The 16-year-old is already 6ft 5ins, weighs 81kg – more than 12 stone – and is still growing.


He discovered he was too tall to get the perfectly-sized suit from most high street stores.
But staff at High and Mighty on King Street in Manchester city centre came to the rescue and offered to make him a bespoke suit – in City colours.
Angus – the son of former Norwich and Scotland keeper Bryan Gunn – is just two inches shorter than England's tallest footballer Peter Crouch.
After being put in touch with High and Mighty, Angus had his measurements of a 38in inside leg and 36in waist taken by tailors at the shop and went to pick up his new smart outfit with his dad.
He was so happy with the results that he wore his suit when he was awarded his scholarship at the club's academy.
The highly-rated teenager, a former pupil of St Bede's College in Whalley Range, is now wearing his made-to-measure attire on special occasions, including some matchdays.
Angus, who is the under-18 goalkeeper for the Blues and an England under-17 international, said: "It has been difficult for me in the past to find clothes that are the right length with the right fit as I am tall but slim.
"It was a really nice experience for me."
Liam Hawkey, assistant manager at High and Mighty, said: "We launched our bespoke suit fitting service to offer men of all sizes the chance to have a tailored suit with all the trimmings – chosen by them."

*Biggest and smallest stars
The world's tallest professional footballer is Kristof van Hout, a goalkeeper, who plays for Belgian team Genk. He is 6ft 10ins.
The world's shortest footballer is Brazilian attacking midfielder Elton Jose Xavier Gomes, who plays for Saudi Arabian side Al-Fateh. He is just 5ft 1ins.
The tallest English footballer is Stoke City's Peter Crouch, left, who is 6ft 7ins. MuEN